Background of the Malnutrition –Addressing malnourished children project
During one of the meeting with ICDS officer at the block Panchayat, Manav Seva Trust came to know that there were about 225 children are identified as malnourished in the Sanand block. All ICDS workers were trying very hard to bring the children to the normal condition. ICDS department was struggling to get the support to give the boost to this activity and bring children in to the normal condition rapidly. Manav Seva studied this issue deeply using primary and secondary data. Manav Seva Visited field area and talked to Anganwadi workers and mothers. Also visited global sites to get the idea about the status and need to work for malnutrition aspect. In the process it was found that Sustainable Development Goal (SDG) 3 is trying to address the issue by mentioning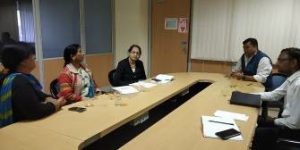 SDG 3.1 By 2030, reduce the global maternal mortality ratio to less than 70 per 100 000 live births.
SDG 3.2 By 2030, end preventable deaths of newborns and children under 5 years of age, with all countries aiming to reduce neonatal mortality to at least as low as 12 per 1000 live births and under-5 mortality to at least as low as 25 per 1000 live births.
Manav Seva Trust was looking for the support to help out to the ICDS department. Meantime MST came to know that in the year 2019-20 TML also intend to work for the issue and ready to extend the support. A formal meeting was organized between MST, TML and the ICDS department Malnutrition –Addressing malnourished children project took the shape.
Baseline data
To collect and validate baseline data, MST collected primary list of 225 malnourished children from the ICDS department. Manav Seva Trust came to know that there are about 221 children falls under the Severe Acute Malnutrition (SAM) category and 4 children falls under the Moderate Acute Malnutrition (MAM)) category. MST tem visited Anganwadis of the Sanand block and carried out meetings with mothers in the villages. During these visits and meetings MST tem members came to know about the reasons of the malnourishment in the Sanand area. These reasons were
Most mothers were belonging to farming community and some of them were daily wage earner. Mothers were out most time from the house and were unable to pay attention and spare time to feed the child.
Before going for the work and after coming home, mothers found busy performing household chore like cleaning, washing and cooking and not sparing time serve the food to the malnourished child.
Mothers did not have sufficient knowledge about the balance diet and nutritious food. Most times, vital vitamins and minerals found lacking in their dish.
Sometimes mothers take children along on the fields as result children were irregularly attending Anganwadi. As a result they were deprived from the food, information and services offered by Anganwadi.
Mothers reside in the interior villages also could not avail health check up facilities as qualified doctors available at the block and district level in most cases. 
MoU and Setting the objectives
All the project partners set the objectives and entered in to the MoU. Malnutrition –Addressing malnourished children project. Set the Project tag line "Healthy Child Healthy Nation". Project started from June 2019 onwards. Project objectives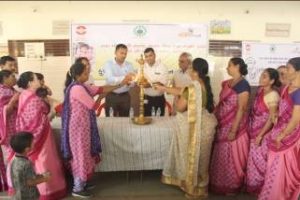 To contribute to the reduction of mortality and morbidity associated with acute malnutrition to children less than 6 years and to support their physical and general growth.
To Strengthening community for sustainability of the project
Identification of malnourished children among SAM and MAM category and their referral to appropriate facilities.
Diagnosis of any medical condition leading to malnutrition and its treatment.
Education regarding calorie dense food preparation and its monitoring.
Capacity building of village volunteers/community.
Food demonstrations among Mothers, Village Volunteer and Sand ICDS workers.
MoU with TML
Formal MoU process was carried out at the TML, Sanand. CSR team gave detail orientation to all the partners regarding minute things about the project and how the programmes and events are expected to carried out. All the project partners signed MoU and entered in to the agreement.
 Formal Launching of the Malnutrition Project
Programme inauguration event was organized on 8th July 2019, at the Jainwadi hall, Sanand. Mothers of all the malnourished children were invited along with their children. Total 200 mothers participated in the event. Senior officials from ICDS department including CDPO remained present at the ceremony. Senior doctors from the health department and CSR head Vinod Kulkarni,TML team were present to encourage women. Dr.Atish Shah a Sanand Janata Hospital Pediatrics also participated in the programme to give a talk on women empowerment. TML team gave guidance regarding iron and vitamin rich healthy diet. Mothers were told to periodically check hemoglobin level of herself and her children. Mothers were explained how it is dangerous to be anemic. During the event Ms. Hiral Sheth Sanand CDPO shared health related knowledge through traditional garba song. The song was about preparation of Oral Rehydration salts (ORS) to prevent diarrhoea. 
Display of nutritious food recipe
During the programme women took part in preparation of nutritious recipe. Women Prepared   traditional recipe likedhokla, Muthiya,Thepla,Sukhadi etc. The important aspect was to demonstrate them food item for which raw material is available locally and at the affordable cost. And also most things they need not to buy as they grow on the own farm. Only the thing is village mother did not had knowledge to make best utilization of the locally available food material. All recipes displayed were testy, nutritious and healthy. During the event mothers learned through practical involvement At the end Manav Seva team distributed healthy Sukhadi packets for malnourished children. Sukhadi preparation was made up from the Jaggery (desi gud).This considered to be very healthy diet. It helps in fast recovery of a child health.
Mothers meetings
Manv Seva team conducted 3 to 5 mothers meeting every month in the ICDS center at the village level. This was organized to address lactating mothers, pregnant women to make them understand importance of Health and nutrition. Mothers regularly Comes to the ICDS center as her child studies there. During the meeting mothers were imparted knowledge about various topics such as
 Preparation of healthy diet for a child.

 Discussion of healthy hygiene practices
 What special care requires taking for the underweight child.
 Encourage women to participate in the Mamta Divas
Manav Seva team distributed mosquito net to all the pregnant mothers to prevent from the diseases like malaria, dengue and chikenguniya.
Following villages were covered for the mothers meetings

Ranmalgadh

Shrinagar

Charal

Gokulpura

Pava

Aniyari

Madhavnagar

Sanand

Khicha

Kundal

Govinda

Kundal

Vasodara

Mankol

Chharodi

Kuba

Vinchiya

Zolapur

Kunvar

Shiyavada

Melasana

Kuba

Rupavati

Rethal

Makhiyav

Khoraj

Goraj

Godhavi

Bol

Vanaliya

Kalana

Virochannagar

Bakarana

Bakrana

 Soyala

Indera Nagar

Motipura

Virpura

Naranpura

Gebpura
Manav Seva team also actively participated in the Mamta Divas organized by the ICDS department.
Meetings with Anganwadi workers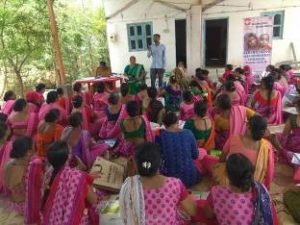 Manav  Seva  team  carried  out  meetings  with Anganwadi workers  at the  Taluka Panchayat Sanand. Intention of these meetings was
To seek their cooperation to bring 100% result of the project. With the joint efforts all the students should be
healthy at the end of the project.
To get regular update about progress of the SAM and MAM category children.
Also to discuss any difficulties if they are facing working with mothers and handling children.
Also to provide to provide them support and motivation to bring desired results.
Dates of the meetings with Anganwadi workers at the Taluka Panchayat Sanand
| | | |
| --- | --- | --- |
| Sr.no | Meeting date | Venue |
| 1 | 11-06-2019 | ICDS,Sanand |
| 2 | 8-6-2019 | Jain Wadi,Sanand |
| 3 | 31-07-2019 | Jain Wadi,Sanand |
| 4 | 10-08-2019 | Taluka Panchayat,Sanand |
| 5 | 15-10-2019 | Taluka Panchayat, Sanand |
| 6 | 16-10-2019 | Jain Wadi,Sanand |
| 7 | 28-11-2019 | ICDS |
| 8 | 23-01-2020 | ICDS |
| 9 | 14-03-2020 | Sanand Janata Hospital |
Health checkup Camps and supplementary food and medicine
During the project span Manav Seva team organized health checkup camp every month at Sanand Janta hospital Sanand. Mothers of the target children were invited to attend this health checkup camps on thee regular bases along with their child. A qualified Medical officer regularly did health checkup of the each child. The Anganwadi in charge along with supervisors remained present during each camp.
Following activities were carried out during the health checkup camps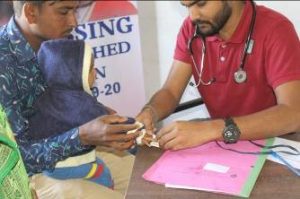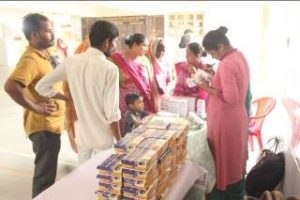 Measurement of height and weight of each child.
Health check up by qualified Dr.Atish Sha.
Prescribing treatment of a child
Distribution of medicine and health tonics
Iron, folic acid and vitamins syrup distributed to targeted children

Updating of data in coordination with Anganwadi workers

Providing supplementary food to each child
Organization of the awareness meetings jointly by TML, Manav Seva and ICDS team members.
CDPO and senior officials of the TML use to sit with doctors to discuss the health status of each child
Each mother was provided guidance personally by seniors
In every health checkup camp Manav Seva team invited leaders and government officers from the Sanand town to motivate women. Team members from the TML plant also use to come on regular bases to encourage women and to monitor the process.
Dates of the health checkup camps
Sr.no

Dates

Supplementary food item/Medicine distributed to the malnourished

children during the camp

1

8-6-2019

Jain Wadi,Sanand

2

31-07-2019

Jain Wadi,Sanand

3

10-08-2019

Taluka Panchayat,Sanand

4

15-10-2019

Taluka Panchayat, Sanand

5

16-10-2019

Jain Wadi,Sanand

6

28-11-2019

ICDS

7

23-01-2020

ICDS

8

14-03-2020

Sanand Janata Hospital
Healthy food competition (Vangi Spardha)
Healthy food competition was organized to demonstrate mother's healthy food recipe. From the demonstration mothers learned how to prepare variety of nutritious food to attract a child towards food. Mothers enjoyed preparing range of items this includes traditional food items, salad dishes, sweets, Vegetables, Namkin, beverages and healthy drink variety. Completion was organized at the following 3 places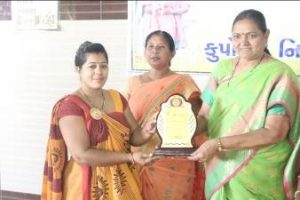 1  Jain Wadi Sanand during inaugural ceremony on the 8th July, 2019. Total 50 women participated.
2 Sanskar School Sanand during the month of January, 2019.Total 150 children and their mothers participated.
3 At the Nalsarovar during the celebration of the world women day the 8thmarch.Total 120 women participated.
At all the 3 places senior officers from the TML came to encourage women and also became part of the judge panel to select the best food preparations. Manav Seva team distributed prize to encourage women.
Development and distribution of IEC material
Manav Seva team developed an effective poster to convey health related messages in an effective manner. Material was useful to conduct mothers meetings interestingly. Posters were kept on the wall of each Anganwadi. It became easy for the Anganwadi incharge to spread health awareness among mothers.
Achievements
No of SAM children
No of MAM Children
No of Normal (Healthy)
children
Baseline (June- July 2019)

85

102

00

End line(Feb –March 2020)

04

00

182

Total Children 225
Reporting and Documentation
Maintaining file at MST office- Every moth Manav Seva team updated a child report in the hard copy and form of the each child is maintained at the MAnav Seva Trust office in Sanand. Manav Seva team
Sharing children list with TML- Every month Manav Seva team provided beneficiary count format to the TML and also shared the updates of the progress of the each child.
Data Entry in Malnutrition App
Vandana Pandya and Rahul Srivastav from Manav Seva team attended a training programme at the TML office premises. Training was about to update data sheet for each child.Every month Manav Seva team spent about 5 days to update the data in to the Malnutrition App. Data of each participant child is uploaded and updated every month.
Monthly reports, planning and PPT
Monthly reports and planning was submitted in deadline and also submitted data on PPT on demand.
Data sharing with CDPO and ICDS department
Manav Seva Team regularly shared the entire data with CDPO, Sanand
Getting updated child measurement list from the Anganwadi workers
To monitor the child progress, Manav Seva team use to get the list from Anganwadi workers at the regular intervals.
Distribution to Dhabla to pregnant mothers considering heavy winter
Manav Seva team distributed Dhabla to all the pregnant mothers who were hospitalized. Manav Seva team wants to ensure that coming generation also born healthy and remain healthy.
Carried out Vyasan Mukti Campaign for women awareness
Women were explaining tobacco is not good for their own health. Cultivation of healthy habit is important for maintaining good health.
Campaign against bad habits like tobacco chewing etc
To ensure that mothers attend health checkup camps regularly, along with her child.
To realize mothers that child is more important than any other work
Many times we had to go to villages to give medicines and food to the mothers who remained absent in the camp
Using of the Mobile health check-up Van it is possible to provide medicine and food and services at the doorstep of mothers. It will save mothers from travelling and saves spendinding on travel. Most importantly daily wage earner mothers need not to take break from the work to travel to Sanand to attend the health checkup camp. Mothers will regularly attend the meetings as NGO will go to her village more frequently.
Continue to have close coordination with ICDS department to ensure sustainability. Monitoring for the long time, mothers meeting should take place on regular bases. This will also help to see that children who already came in green category do not fall back in yellow or red category again.
Looking at the existing trend in India 44% of children under the age of 5 is underweight and 72% of infants are anemic. By implementing "Malnutrition: Addressing malnourished children"
project in Sanand area Tata Motors Limited, Manav Seva Trust and ICDS department set an example that strong determination and conscious efforts brings results. Through this project it was possible to bring children from SAM category to a normal child. Behavior change communications worked greatly. If we continue to implement this project in the Sanand area there is a surety that Sanand block will never sleep back again. "Healthy life will become way of life of the people of the Sanand block.
In the next round of the project we can also reach to the left out Anganwadis of the Sanand block for eg.some anganwadis of the Sanathal jurisdiction